Mechanical design, technical project management, CAD training and consulting
Customized services in mechanical engineering and special machine engineering for your company or project: Development of customized technical equipment, machines and assemblies, technical consulting, engineering assistance as well as CAD‑trainings
CAD trainings
Through many years of experience in CAD design and in the strategic development of complex models and extensive assemblies, R‑Kon has an extensive fund of knowledge in the use of CAD systems, especially Autodesk Inventor. For customers who want to expand their skills in a practical and targeted manner, R‑Kon therefore offers individually tailored CAD training courses in which customers learn exactly what they need for their everyday work.
In terms of training content, there is a strong focus on the efficient creation of reusable models through predictive model composition as well as strategies for independent knowledge enhancement. Particularly interesting trainings for advanced users: The creation of scalable models with top-down design and sketch skeletons as well as the automation of models and processes in the CAD system using Inventor-iLogic and Inventor-API. You can find a taste of methods and content in the "CAD Tutorials" section and on the R‑Kon YouTube channel.
The training courses are designed to work very well as online events using contemporary tools. Face-to-face training sessions are possible, but not required. Public Inventor trainings with general content as well as face-to-face trainings are offered in cooperation with GFU Cyrus AG, remote and in-house trainings can also be booked directly at R‑Kon.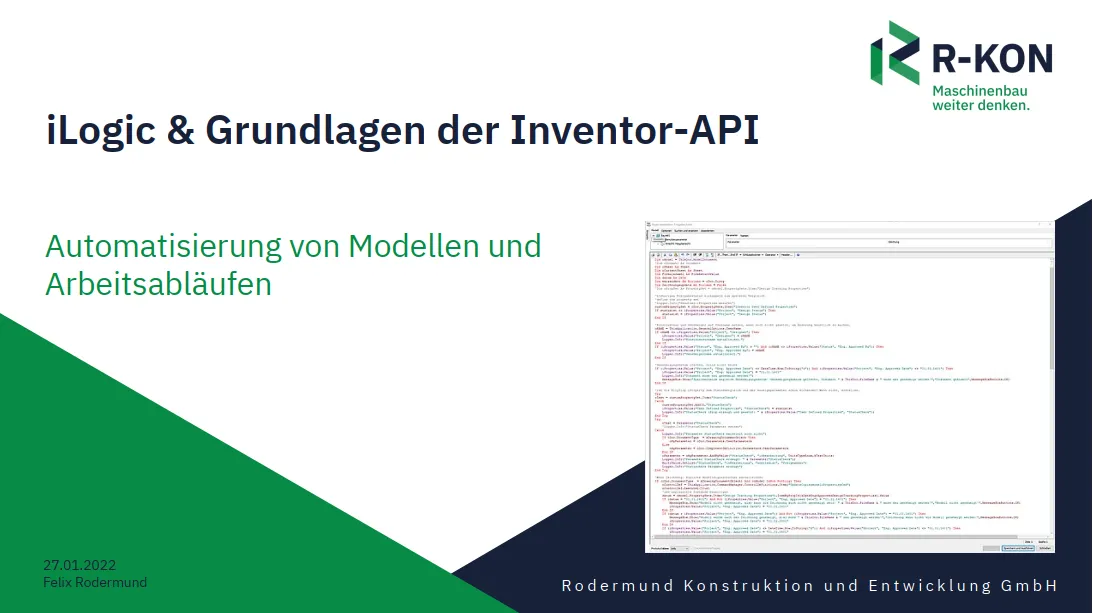 Dimensioning and technical calculations
The design and calculation of the components and parts involved are among the most important aspects in the development of machines and devices. The service life, probability and frequency of failure of stressed parts depend to a large extent on how the expected load is estimated. Here it is important to find an individual balance between procurement costs and durability in order to achieve optimum economic efficiency. R‑Kon offers the dimensioning of manufactured, standard and purchased parts in accordance with your requirements, the specifications of suppliers and the relevant rules of technology.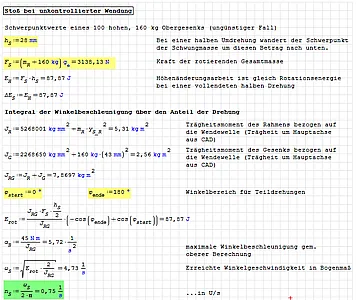 New development, concept creation and drafts
Where there is a desire to fulfill a specific function, but no specific solution has yet been worked out, this is the core of engineering works: The development and elaboration of concepts and their confirmation by first technical calculations. R‑Kon carries out the preparation of requirement profiles and the elaboration and evaluation of possible solutions as a basis for the design to be created. In close coordination with you, drafts are created on the basis of which the required devices or machines are then designed. Subsequently, R‑Kon accompanies the tendering, production, assembly, testing and further development as required.
In addition, R‑Kon offers the standardization of design variants and the development of modular systems in order to be able to implement customer requests and adaptations quickly and efficiently and to avoid uncontrolled growth of design data.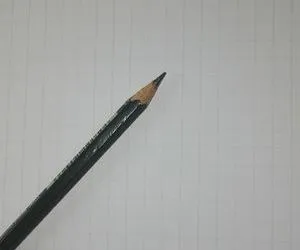 3D CAD design
With Autodesk Inventor or ptc Creo, R‑Kon creates even complex models quickly and efficiently. A core competence is the creation of easily reusable models that can be adapted with little effort, especially by means of top-down assemblies or skeleton modeling. As required, R‑Kon undertakes the creation of new models, adaptation of existing design data or reconstruction of models from existing parts and the creation of drawings suitable for production and assembly.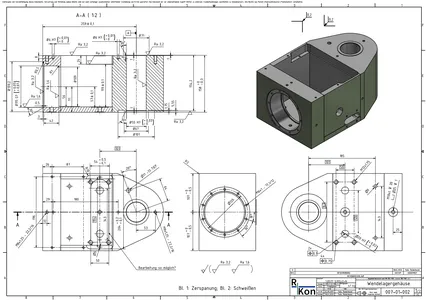 CAD consulting
Skillful creation of models and drawings can bring about significant reductions in design effort when reusing and adapting CAD data. Top-down design using skeleton modeling is particularly suitable for this purpose. It is often worthwhile to invest some time before creating the models and drawings in order to plan the most suitable structure for the expected future adaptations and, if necessary, even to recreate existing data.Assemblies required in different sizes and even models of complete machines can be built functionally and redundancy-free, so that resizing or implementing optional features according to customer requirements can be done with extremely low design effort. In addition, frequently used design features can be predefined and automated by tables or programmed rules. R‑Kon helps you to find and use potentials in this area.
Some repetitive tasks can also be handled by scripts. With extensive knowledge of iLogic and the Inventor API, R‑Kon can help you automate CAD models and activities.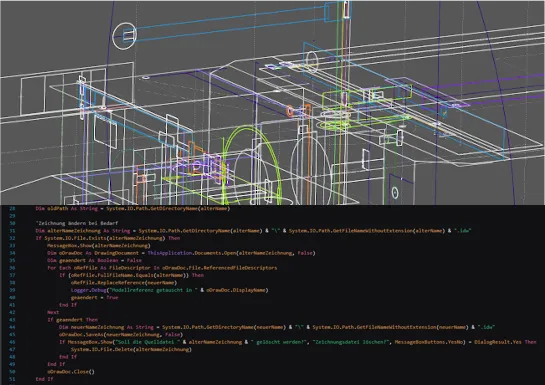 Technical equipdent design
For the handling of workpieces, tools or for the changeover of machines during production, special and individual devices are often required in order to be able to carry out work in production or maintenance safely and quickly. The development of well-designed equipment is therefore of great importance for efficiency and safety in production. If you cannot do the design of the devices in-house, R‑Kon will work with you to develop the optimal device for your application. You receive complete design data for manufacturing the equipment. If desired, R‑Kon will supervise the manufacturing at external suppliers up to the handover of the finished equipment.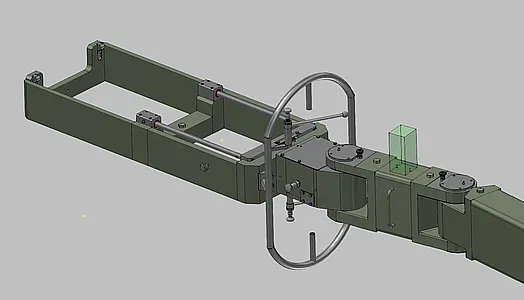 FEA calculations, failure analysis
The calculation of loads is a classic engineering task in mechanical engineering. FEA calculations significantly expand the possibilities for this, and more comprehensive findings can be obtained in a shorter time. For this reason, R‑Kon regularly carries out FEM analyses during the design process. The FEA results make it possible to design components more specifically to meet the load, and thus usually to achieve a higher load capacity or lower manufacturing costs. In feasibility studies and concept development, the FEA can also help to quickly find the most suitable design approach.
In the case of existing solutions which do not fulfill their purpose optimally or have too short a service life, R‑Kon takes over the cause investigation and damage analysis. Here, too, faster and more comprehensive results can be achieved by including FEA calculations. Improvement measures or requirements for a new design can then be derived from the knowledge gained.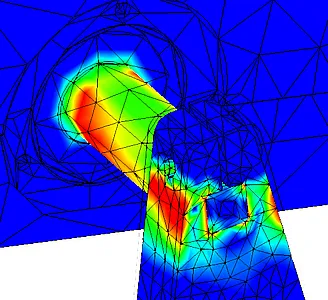 Technical consulting, external project assistance
For many operators of long-lived special machines and production plants, it is an exceptional situation when a machine is to be purchased or modified. In this situation, there is often a lack of employees who have both routine experience in the design and planning of machines and the necessary time in addition to their daily business. It is often difficult to keep track of what exactly manufacturers of machines offer technically and how well which offer fits the requirement profile. Quite often offers are vague or important information for the individual buyer is missing. R‑Kon has a lot of experience with project management on the side of the machine manufacturer as well as on the side of the operator. As an external project assistance, R‑Kon can relieve you of a lot of work in this time-consuming process, create precise specifications, provide suppliers with necessary information, extract the relevant technical information from offers, prepare it and eliminate specification gaps. Suppliers are given precise guidelines as to what is important for the order and, where necessary, quotation data can be made more precise and adapted to actual requirements. All processes are comprehensibly documented in the level of detail you require.
Design of experiments, testing
In the case of experimental designs, it can be useful to confirm the theoretical calculations with tests. For this purpose, R‑Kon takes over the planning of tests and the monitoring of the testing of prototypes. The test results are documented in a comprehensible manner and can be incorporated into the further development of the design.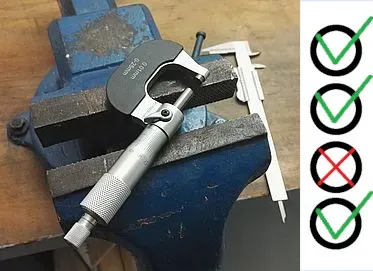 With all services offered, you benefit from R-Kon's high efficiency and excellent price-performance ratio.